Young Mothers Project 2015
Latest News :
Young Mother's Project
Young Mothers Project 2015
Empowering Young Mothers in the Viseisei Medical Zone.
Project start up.

The VSHC NCD team and the Community Health Workers (CHWs) identified teenage pregnancy as one of the major issues in their communities. A successful proposal was put forward for a small grant on behalf of the community, through VSHC to UNDP. The CHWs, who were trained under the VSHC NCD project, succeeded in getting the funding for the project. The Young Mothers Project was initially launched on the 27th of February 2015 aiming to assist young mothers through empowerment in health, reproductive health rights and attempts at re- establishing and achieving their original goals in life. The direct beneficiaries of the project include teenage/single mothers; their families and their communities.
Young Mothers Project aim.

"To work with the community in achieving wellness, which incorporates physical, social, mental and spiritual health, by empowering the young mothers through education, advocacy and leadership".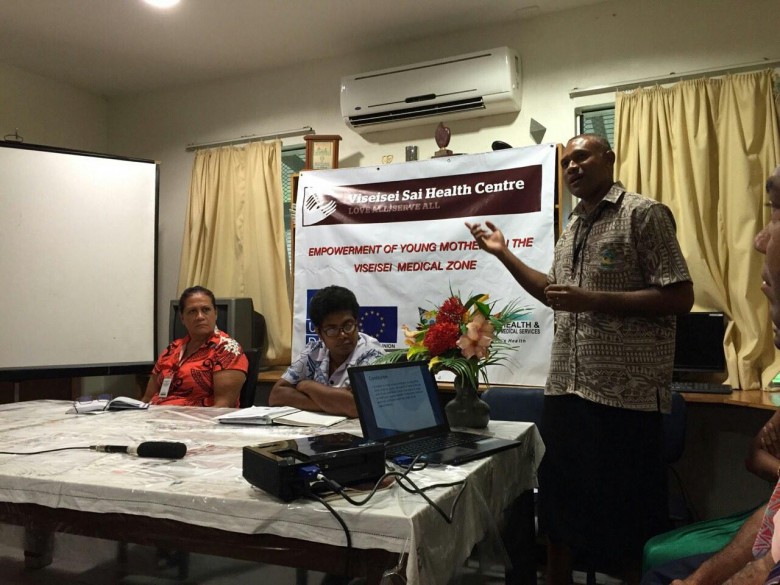 From left to right: DHS Sr. Leslie Boyd, Chief Guest DMO West – Dr. Susana Nakalevu, UNDP SCEFI Facilitator - Rusiate Ratuniata.
Young Mothers Project.

The launching of the Young Mothers Project by Viseisei Sai Health Centre saw the Healthy Settings initiative utilised as key stakeholders were invited to participate and assist in the project implementation. Key stakeholders present at the launch included the Ministry of Health's Divisional Medical Officer (DMO) Western and the Divisional Health Sister Western. The DMO was the Chief Guest who launched the programme. Also present were the representatives from the Ministry for Women and Social Welfare, Ministry for Youth, Ministry for Labour's National Employment Centre, District Officer Lautoka/Yasawa, Empower Pacific, Community Health Workers, Trainee Interns from Fiji National University and members of Media organisations.
The essence of partnership embodies the framework of Healthy Settings through the integration of government stakeholders, like-minded Community Service Organisations (CSOs) and the local community who were invited during the launching. The local media organisations also play an important role in raising awareness of the project. All the stakeholders indicated strong interest in assisting the young mothers. Government organisations and CSO's must cooperate in all spheres of development to promote resiliency for economic prosperity, social justice and prevention of disease. Planners must ensure that Healthy Settings and wellness becomes the basis of progress. The Community Health Workers (CHWs) from Viseisei Village, Lomolomo Village and Lauwaki Village identified teenage and single young mothers and performed needs assessment surveys to identify which young mothers would best benefit from this project.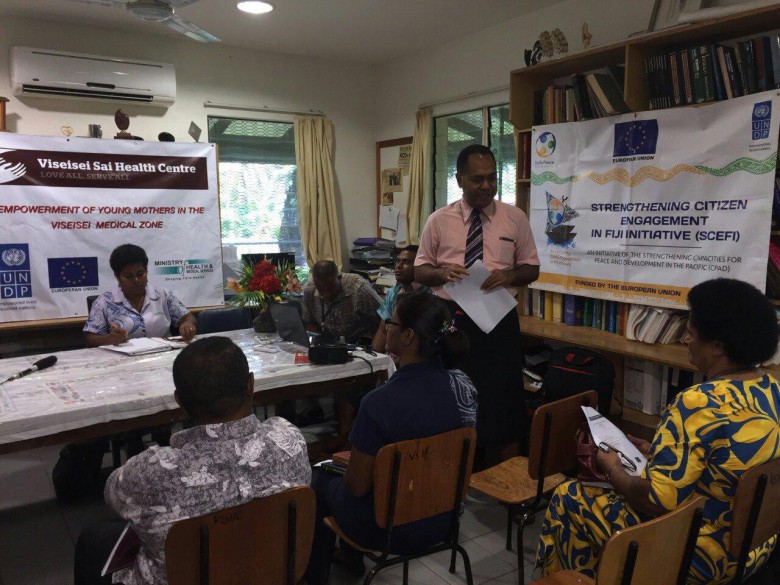 Introduction from Health Promotion Officer Mr. Mosese Baseisei.
2015 Young Mothers Project Outcomes.

The project was undertaken over a six-month period, ending in July 2015. 33 young mothers were identified and 20 completed the needs assessment. Following this, 3 phases of workshops were undertaken, with 16 of these women attending different phases. 8 young mothers were able to complete the full three phases of the project.
Most of the young women reported that they had limited opportunities, and during the needs assessment expressed their desire to pursue their original goals in life of potential employment and other income generating opportunities. The project has been successful in empowering the Young Women and providing them with a voice and an opportunity to express their needs. They have been provided with information and linked to other stakeholders who can assist them to achieve their goals.
The project has also brought these young women together to form a support network. The young women have now formed a group and have registered with the Ministry of Women, Children and Poverty Alleviation. They are looking to start some small income generating projects, and have started to grow fruits and vegetables in their backyards. Furthermore, since receiving capacity building training from the Australian Pacific Technical College (APTC) during one of the workshops, three young mothers were successfully employed within a month of completing the last phase of the workshop.
The NCD team has received positive feedback from this project. The overall impact has not yet been evaluated, however, the individual workshops gained positive reviews from both stakeholders and participants. When asked 'Do you feel more confident in achieving your goals in life?' all of the participants agreed with some going on to state
'Yes, now I can achieve my goal in life because now I know how much I am worth and doors have opened for me and I have courage now to go ahead and believe in myself no matter what comes my way'
'Yes, it really boosted my self- esteem'
'Yes, it has shown me many ways to achieve my goals'
VSHC collaborated with several stakeholders during this project, including the Ministry of Women, Children and Poverty Alleviation. They attended two of the workshops providing a presentation about their services and how these young women can engage with them. Mrs. Makereta Taoi, the assistant Women's Interest Officer, was the guest speaker and gave the closing remarks at the final workshop. Meeting with her afterwards, she provided her thoughts about this project and the partnership between VSHC and the Ministry of Women.
'I admire this new teen mothers program, I think it is a unique one. We are supportive. Since it is one of its kind (programs) in Fiji, I really thank VSHC and their staff for such a unique project which they have, targeting teen mothers'
Mrs. Taoi recommended the team continue this Young Mothers project and would like to see continued partnership between their office and VSHC. If possible she would like to see such projects being carried out beyond Viseisei to all of Lautoka district and they would be happy to assist in the implementation. VSHC and the CHWs will continue to provide in kind, ongoing support to this group as they require, and will pursue further opportunities for partnerships and funding for future projects.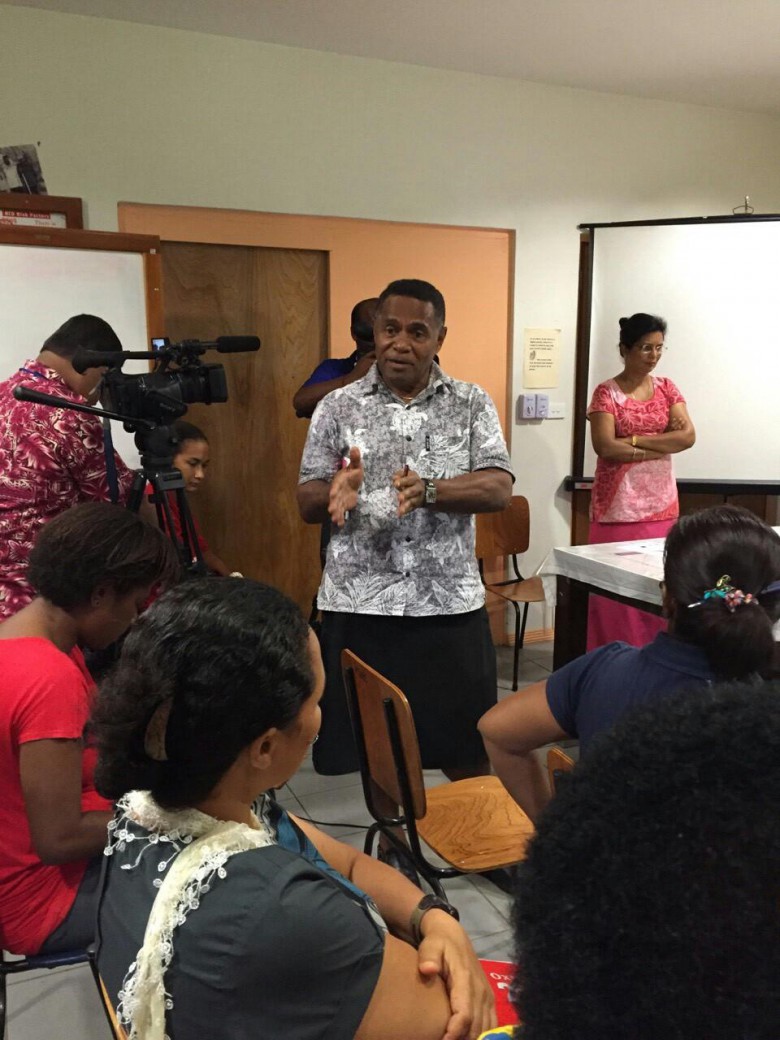 FCDP Programme Officer Mr. Aseri Rika making a point during the launching. Medical Director Ass. Prof. Dr. Naidu is in the background.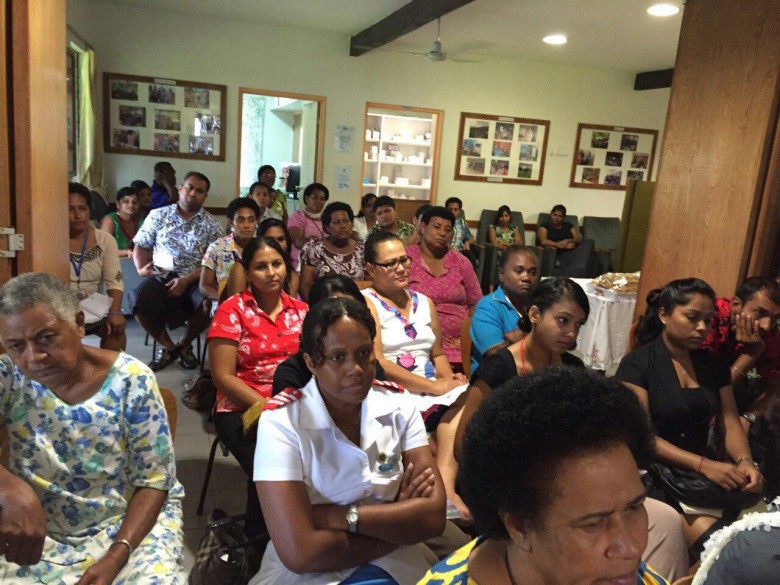 Invited Guests during the Launch.