Reproductive Health Project
Latest News :
Reproductive Health Project
Reproductive Health Project

Completion of Reproductive Health Project.
The RH Project finished on December 31st, 2014. This milestone was recognised on March 17th, 2015 at an event held at VSHC. The occasion was marked with the launch of two publications. One being a book on RH for the young entitled "Understanding your own Reproductive Health" and the second being the Project Report " Empowerment of Rural Women and Girls in Reproductive Health". The two publications are part of the European Year for Development campaign in Fiji and its global thematic focus on women and girls in March.
Download the full Project Report.

You can also download the RH Project "Log of Activity" to see in more detail what has been achieved during the period that the project has been running.
A press release and a brochure with a summary of outputs of the Project were also presented. The occasion was also utilised as a delayed International Women's Day celebration with the theme of "Make it Happen".
The chief guest was Andrew Jacobs, the EU Ambassador for the Pacific. In launching the two publications, Andrew said: "The Viseisei Sai Health Centre, with the support of the European Union, has been leading one of Fiji's largest human rights projects to empower women by giving them access to reproductive health services provided by a dedicated team of experts who work hard to cover a large area of rural western Viti Levu. Women and girls must be informed of and have access to safe, effective, affordable and acceptable health care services. However, in accessing health care and services, they are not often guaranteed privacy and confidentiality, nor do they always receive full information about reproductive health options and services. Over 70% of a total of 1,505 rural women surveyed in a baseline survey conducted by the Viseisei Sai Health Centre had no knowledge of reproductive health issues such as cervical cancer and its prevention. This project has been about empowering women to exercise their health rights by providing them with information and outreach clinical services in family planning and contraceptive use."
Cover and inside of Brochure for RH Event on March 17th.



Cover of the recently launched book for the young.

RH Project closing event and book launch.


View the full News report.


Launch of RH Project, March 8th, 2013.
The Head of the EU Delegation for the Pacific, Ambassador Andrew Jacobs officially launched the EU funded project entitled "The empowerment of rural women and girls in reproductive health" in the Health Centre on March 8th, 2013. The project was launched on the occasion of the International Women's Day Celebration and the theme for the day was "A Promise is a Promise – Time for Action to End Violence against Women" The project was conceived by the Medical Director of VSHC, Associate Professor Swaran Naidu. She gave a talk to the people attending where she said that "The wellness of many women is affected by their poor reproductive health. Fiji has one of the highest incidences of cervical cancer and it is the commonest cause of cancer deaths in women. This is a preventable disease and hence strategies need to be worked out to increase the uptake of screening for cervical cancer. There is a high rate of unplanned pregnancies with a high unmet need for contraception. Sexually Transmitted Infections and Gender Based Violence are other challenges that need to be addressed."
The EU funding will enable the team from Viseisei Sai Health Centre to reach out to rural women from Ba to Nadi. Many women in this area are disempowered because of poverty, isolation, not being able to make decisions about their own health and social taboos regarding sexually related topics. The disempowerment is aggravated by difficulties in accessing quality reproductive health information and care. The Reproductive Health Program aims to follow the best practice as laid out in the EU document "ACP Women, Actors of Development". This document may be viewed here. http://capacity4dev.ec.europa.eu/public-gender/document/euacp-publication-women-actors-development
Professor Naidu is a gynaecologist with over 30 years experience in women's health internationally and in Fiji. She leads a team of trained staff comprising of nurses and health educators. They will be reaching out to tertiary institutions, high schools and women's groups to educate the educators about reproductive health matters. They will be talking to women and girls about their health needs. In addition with the assistance of the Fiji Cancer Society Western Branch they will be providing outreach clinical services for cervical and breast cancer screening and assist women with their family planning needs.

Professor Naidu said that the assistance of the EU has been integral to the project. "Without the EU's commitment and generosity, this project would not have been possible." She also thanked the Fiji Cancer Society, the Ministry of Health and the Fiji National University for their collaboration, assistance and encouragement. The Viseisei Sai health Centre will be working closely with the Divisional Medical and Education Officers, Western on this project.

In his speech, Ambassador Jacobs underlined the significance of gender issues. "The EU places a tremendous importance on gender issues, both at home and in the global context as it is a crucial cross-cutting item in all of EU projects and programmes in the region – whether in fisheries, in climate change, in access to energy. Looking at the Pacific region, the EU remains very concerned about the situation across the region, in particular with the high prevalence of violence against women, and the low participation of women in public life." Ambassador Jacobs also pointed out that "to address the gender situation most effectively, we need a strong commitment by our partners, we need engagement at the highest level as witnessed today by the presence of the Tui Vuda (village Chief) and his wife. We need initiatives that are Pacific-centered, and we need a strong involvement of non-state actors."

Professor Naidu said it was fitting that the project was being launched on International Women's Day. "Women are often trapped in their bodies because of unplanned pregnancies and they are targets for sexual and gender violence because of cultural entrenchments." She said it was timely that women felt empowered to protect their bodies and psyche. An empowered woman can contribute even more to society if she can achieve wellness by maintaining good physical, mental, spiritual and social health.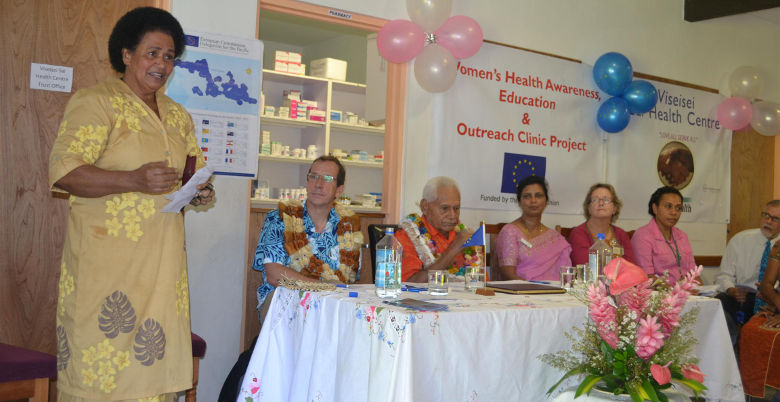 Adi Senitiki - Lady Tui Vuda speaking at the International Women's Day Celebration. To her left is Ambassador Andrew Jacobs and Tui Vuda.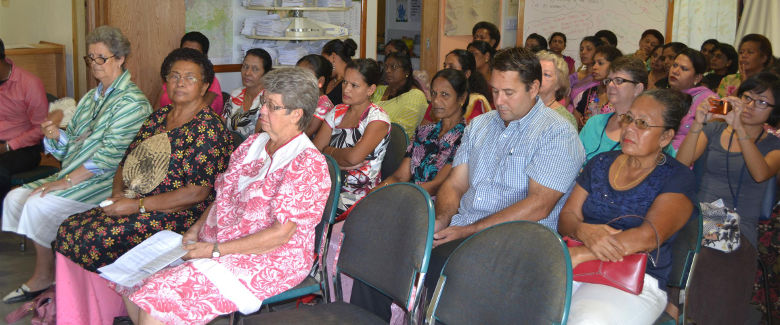 Guests attending the RH Project launch.


Dr Swaran Naidu giving a talk on "Empowerment of Rural Women in Reproductive Health."
The RH project outreach clinic works in collaboration with The Western Branch of Fiji Cancer Society which provides a mobile clinic for the doctor and nurses to use in rural areas. They also provide a driver to drive the mobile clinic and help look after it. The President Milika Marshall and ex President Beverley McElrath together with their other volunteers come along during the outreach and talk to the community as well.
The VSHC staff are working with the Cancer Society on the RH project. The project has been aided considerably by having the use of their mobile clinic for outreach work.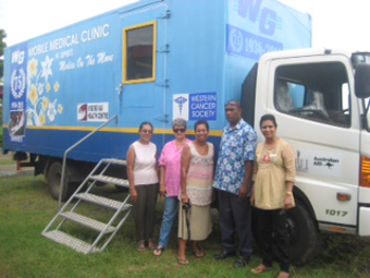 L to R - Western Cancer society member Stella Driu,
Beverley McElrath, Milika Marshall (president), Waqa (driver) and Swaran.