Young Mothers Project – Tavua Series (Phase 2/3)
2017.10.21
VSHC / CCOHSI Facilitators
Coordinator:
Lauren Toll (Community Health Promotion Officer/AVI Volunteer)
Facilitators:
Mosese Baseisei (Project Manager)
Seremaia Koroi (Health Promotion Officer)
Presenting Stakeholders
Makereta Naisau - Department of Women
Qoroniyasi Naitoqiniwa - Department of Social Welfare
Rusieli Mua - Department of Cooperatives
Bauiame Bulilevuka - Department of Cooperatives
Kaminieli Matori - Ministry of Youth and Sports
Mohammed Razeen - Technical College of Fiji
M. Feroz - Technical College of Fiji.
Litiana Vurutokalau - Ministry of Employment, Productivity and Internal Relations.
Pensa Matai - Ministry of Employment, Productivity and Internal Relations.
Attendees
The workshop was attended by fourteen mothers and two Community Health Workers (CHWs). Three mothers from the first workshop did not attend, while one mother was a new participant.
Session 1: Lauren Toll – Needs Assessment findings
Lauren presented the findings from needs assessments conducted with sixteen mothers during their initial interviews. This provided the mothers, as well as the stakeholders and VSHC, with an overview of the demographics, background and needs of the participants, and can provide direction for program delivery and information.

The next session was given by Makereta (Department of Women), who opened her presentation with a personal account of her own experience being a young single mother. Makereta explained how despite the struggles and negative comments, especially from her family, as she was the brightest sibling and expected to do well, she found employment and returned to complete her studies. She emphasised that even though she is now married with more children, she wants to keep her employment as she values her independence. The group responded positively to this story and thanked Makereta for her openness and encouragement. Makereta then went on to explain the role of the Department of Women and their services and grants and the #1560 helpline for reporting domestic violence.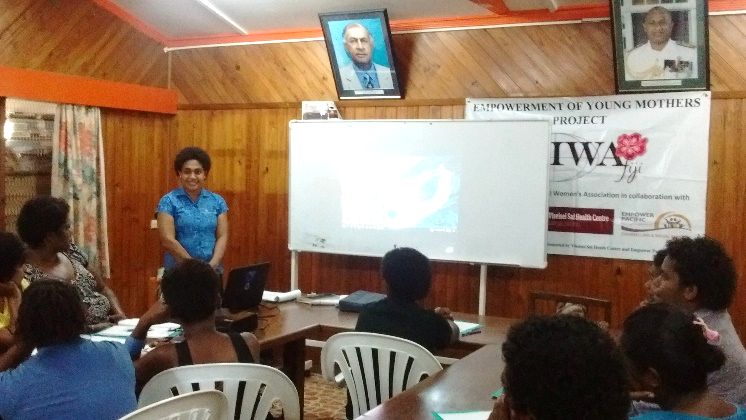 Makereta Naisau (Department of Women).

Qoroniyasi, from the Department of Social Welfare, explained the role of Social Welfare and listed other areas that the department is involved in, such as Family Law Act (custody, separation, maintenance payments), Legal Aid, adoption (adoptive parents must be legally married), Juvenile Act (for those aged under 18 years), child welfare decree, and domestic violence. He also discussed the Poverty Benefits Scheme/Family Assistance, the Child Protection Allowance (CPA) and business development grants.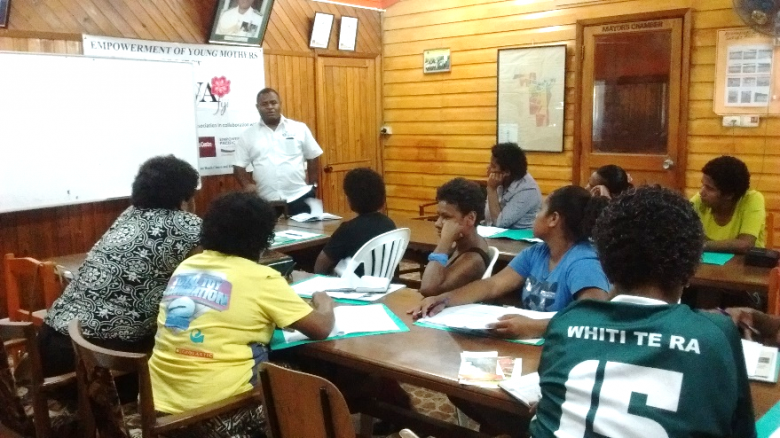 Qoroniyasi Naitoqiniwa (Department of Social Welfare).
Rusieli and Bauiame from the Department of Cooperatives, then discussed the Start and Improve Your Business (SIYB) project run by the department. The objectives of SIYB are to strengthen capacity of local business through business start-up and management training, enable growth of enterprises and create employment. SIYB consists of three training modules including Generate Your Business Idea (GYB), Start Your Business (SYB) and Improve Your Business (IYB).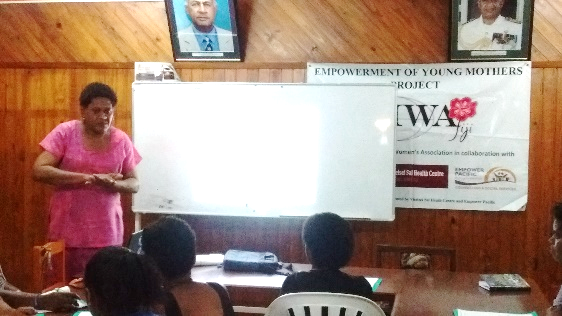 Rusieli Mua (Department of Cooperatives).

Kaminieli, from Ministry of Youth and Sports, then spoke on various development programs run by the MoYS that could benefit the mothers, including Resilient Futures, Youth Club Registration, Empowerment Programs and many more.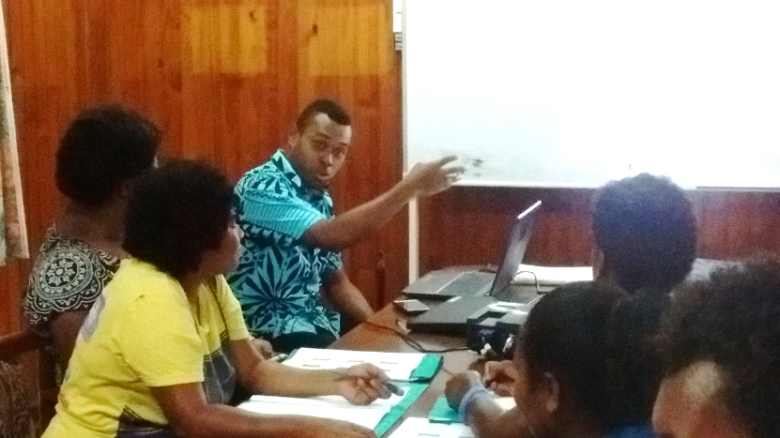 Kaminieli Matori – MoYS.
This was followed by a talk from Mohammed Razeen, from Technical College of Fiji, which detailed the location of the college, the courses offered and the Tertiary Education Loans Scheme (TELS) available to the mothers.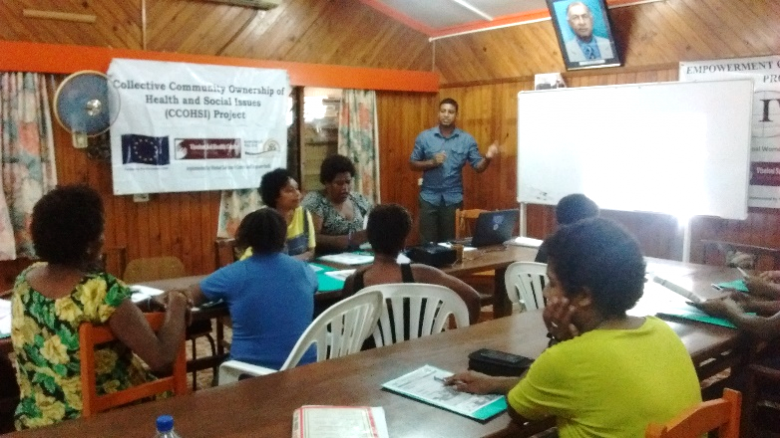 Mohammed Razeen (TCF).

Litiana, Pensa and Josese presented on different aspects of Ministry of Employment, Productivity and Internal Relations with a focus on the National Employment Centre (NEC). Litiana was then available to register any interested mothers who had their required documentation with them. Six mothers were registered with NEC over the course of the day.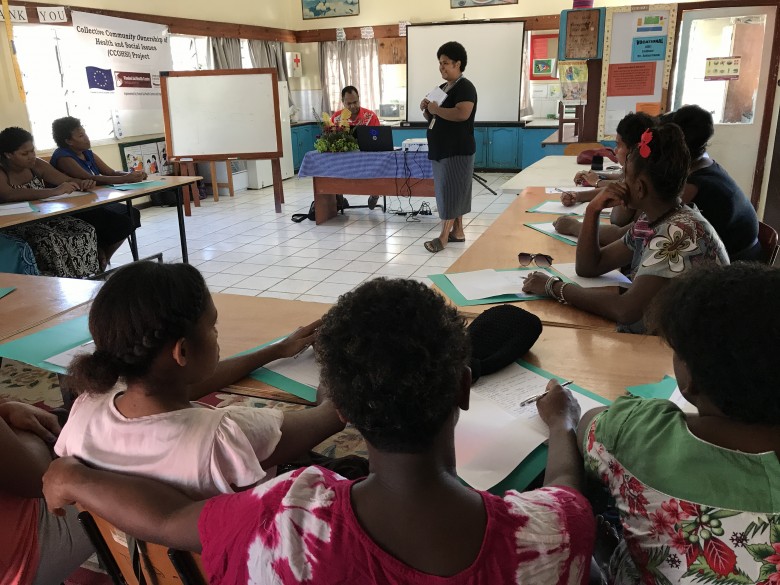 Litiana Vurutokalau (NEC).
After lunch Mosese Baseisei recapped the two days of training with the mothers, discussed the basic outline of a CV, and encouraged the mothers to put into practice what they had learnt during the workshops. Certificates were presented to all mothers present, who then filled out evaluation forms and received per diems before the day was finalised.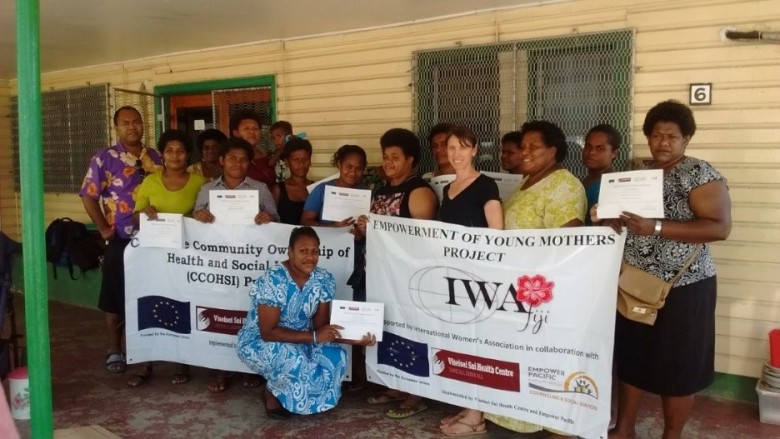 Mosese Baseisei and Lauren Toll (VSHC) with workshop participants and their certificates.

Evaluation
Financial literacy and small business were seen as the most useful topics presented on during the workshop, with approximately half of respondents reporting they felt some type of empowerment or motivation as a result of attending.
Overall the mothers reported they found the workshop very interesting, useful and easy to understand.