Young Mothers Project – Ba Series (Phase 2/3
2017.11.13
VSHC / CCOHSI Facilitators
Coordinator:
Lauren Toll (Community Health Promotion Officer/AVI Volunteer)
Facilitators:
Mosese Baseisei (Project Manager)
Seremaia Koroi (Health Promotion Officer)
Presenting Stakeholders:
Tulia Naivogo - Department of Women
Nunia Tutaga - Department of Social Welfare
Bauiame Bulilevuka - Department of Cooperatives
Karunagaran Nair - Ministry of Youth and Sports
Mohammed Razeen - Technical College of Fiji
Praneshwar Ram - Technical College of Fiji
Litiana Vunitokalau - National Employment Centre
Apenisa Naceuceu - Births, Deaths and Marriages
The second day of the Ba workshop on October 31st was attended by fifteen mothers and six Community Health Workers (CHWs). Eleven of the fifteen mothers attended the first workshop, while four were new participants. One peer educator from Ministry of Health and one zone nurse from Ba Health Centre were also present for the workshop.
Lauren presented the findings from needs assessments conducted with fifteen mothers during their initial interviews. This provided the mothers as well as the stakeholders and VSHC with an overview of the demographics, background and needs of the participants, and can provide direction for program delivery and information.
Tulia, from the Department of Women, explained the role of the Department of Women and their services, including the requirements to form a womens group, what grants are available, leadership training and Rocket Store training amongst others.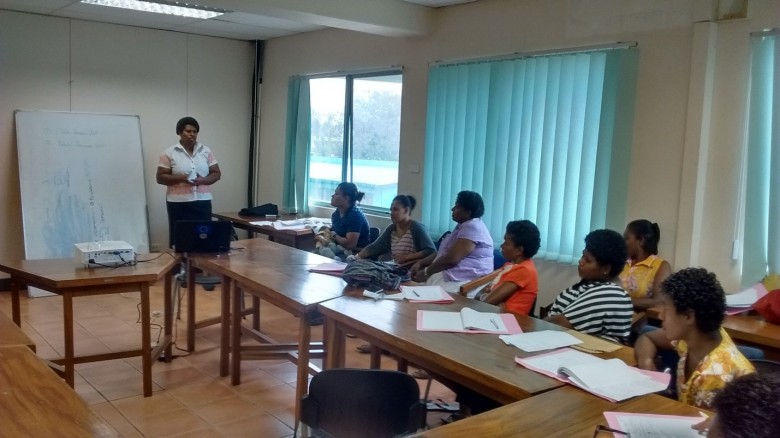 Tulia Naivogo (Department of Women).
Nunia, from the Department of Social Welfare, listed areas that the department is involved in such as Family Law Act (custody, separation, maintenance payments), Legal Aid, adoption (adoptive parents must be legally married), Juvenile Act (for those aged under 18 years), child welfare decree, and domestic violence. She also discussed the Poverty Beneft Scheme/Family Assistance and Child Protection Allowance.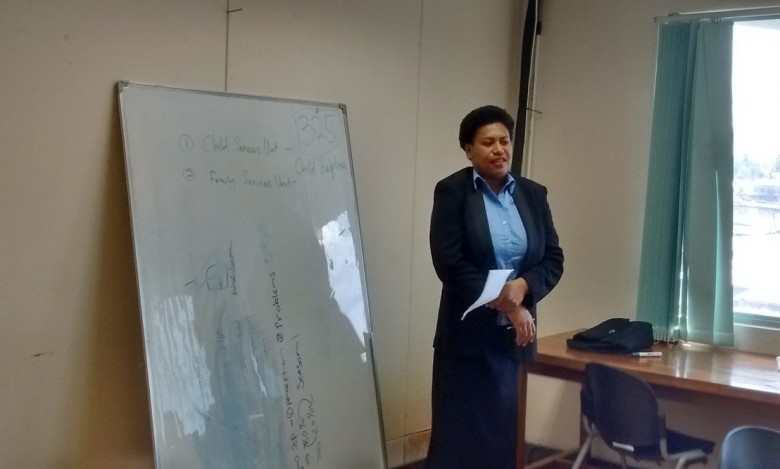 Nunia Tutaga (Department of Social Welfare).
Bauiame, Department of Cooperatives, discussed financial literacy and how to raise a family or run a business on a budget.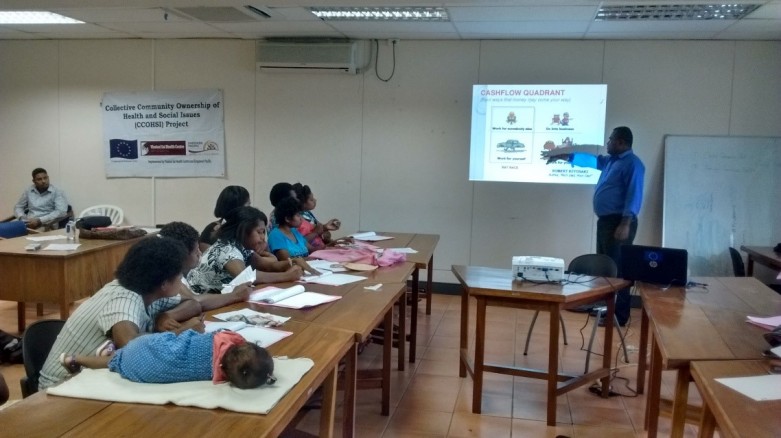 Bauiame Bulilevuka (Department of Cooperative).
Master Nair, Ministry of Youth and Sports (MoYS), then presented on various development programs run by the MoYS that could benefit the mothers including Resilient futures, Youth Club Registration, National Young Entrepreneurship Awards, Empowerment programs, Multi-skills training and many others.
Mohammed Razeen, Technical College of Fiji, discussed the types of courses offered, course lengths, Tertiary Education Loans Scheme (TELS), enrolment requirements and assessment tasks, and provided the mothers with handouts regarding course and contact information.
Litiana, National Employment Centre, presented on the four services under NEC which cover all industries in Fiji including both private and public sector, these being Formal Employment Service, Foreign Employment Service, Fiji Volunteer Service and Small Business Enterprise. Participants were encouraged to register on the day, and had been informed prior to bring their necessary documents. A total of four mothers registered with NEC, with one being engaged into a work attachment.
Apenisa, Births, Deaths and Marriages, explained that the registry is a section within the Ministry of Justice. He went on to explain the importance of registering children with BDM at birth and covered the necessary requirements and fee structures for registration.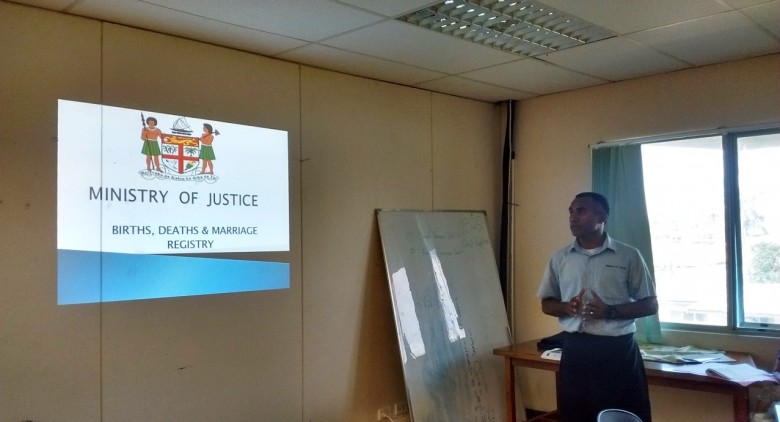 Apinesa Naceuceu (Births Deaths and Marriages).
At the end of the session, certificates were presented to all mothers present by Shimal Roy (Peer Educator) and Verenaisi Tobeyaweni (Zone Nurse). After a group photo was taken, the workshop ended with a hymn and prayer before the participants collected their per diems as they left the venue.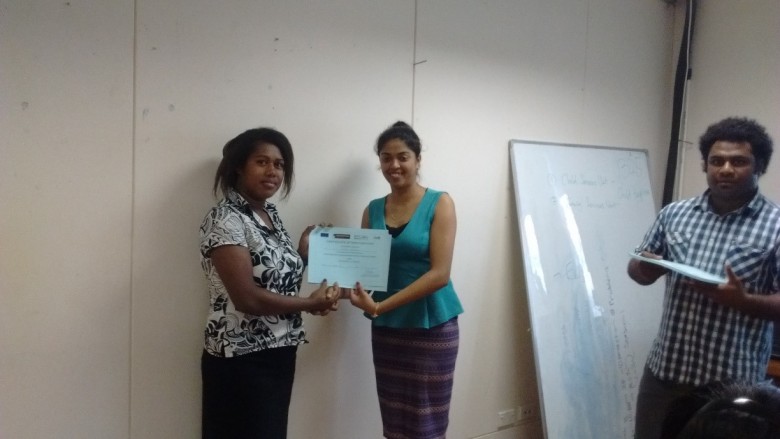 Presentation of certificates from Peer Educator Shimal Roy.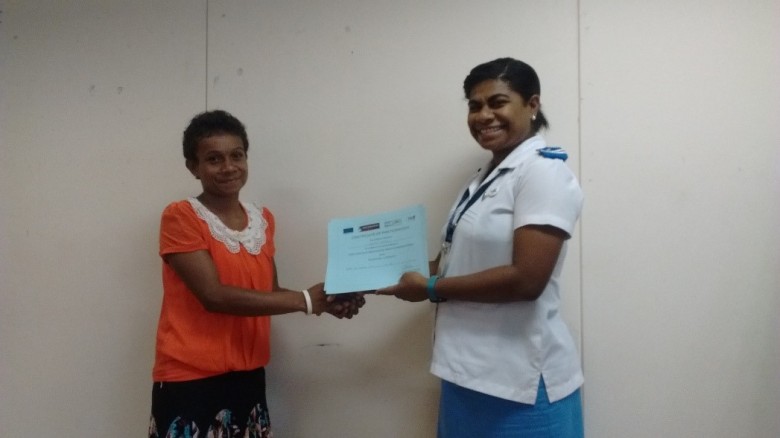 Presentation of certificates from Zone Nurse Verenaisi Tobeyaweni.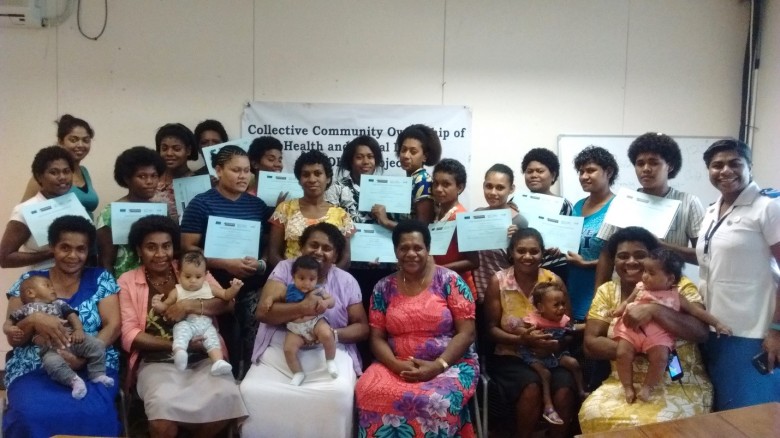 Group photo of guests, CHWs and mothers with their certificates.