Reflections of the week
2013.05.31

Reflections from Benjamin Narayan from the NCD Team
This week has been a very busy week for both the NCD and RH teams.
The RH Team had two workshops during the week. One of the workshops was conducted in the Lautoka district and the other in Nadi and therefore, they needed the support from all VSHC staff.
On Monday and Wednesday the NCD Team helped the RH Team to organize the two workshops for teachers. On Monday both the teams were at the YWCA hall where the Lautoka Workshop was held. While helping with the smooth running of the workshop throughout the day, the NCD team was able to further enhance their knowledge on reproductive health.
Just like every other Thursday, this week was a busy one too. Dr. Joe and I conducted a group education session for the high risk patients. We saw at least 25 NCD patients. The session was a fruitful one as patients asked lots of questions and were able to better understand about the nature and management of their diseases.
Moreover, the wellness spirit is in the air. Lachu has been plucking the guavas from our backyard gardens and sharing it amongst the VSHC Staff. Hence the vitamins C intake is great.
GO NCD AND WELLNESS…
| | |
| --- | --- |
| Guava Delights | |
Reflections from DR Joe Felsen
New Zealand SAI MEDICAL TEAM DONATES TENS OF THOUSANDS OF DRUGS TO VSHC.
We cannot intervene in the NCD crisis without medications. As a rule the MOH Pharmaceutical supply requested for 3 months only lasts 3 weeks. This leaves many patients with no metformin, Ace inhibitors and DC cholesterol lowering pills to combat diabetes, hypertension and hyperlipidemia.
We now have an abundance of clinical supplies. For example from the NZ Teams donation we have stocked 5760 x 20mg enalapril tablets, 6120 x 20mg simvastatin, 2672 x 40mg simvastatin tablets, and many other pills to treat gastritis, constipation, diarrhea and infections.
These medications would cost our patients thousands of dollars and many would not be able to afford them. A Thousand thank yous go out to the NZ Sai Medical Team for your generosity
| | |
| --- | --- |
| Extra medications in stock closet | Restocked pharmacy |

Reflections from Staff Nurse Jiji
I enjoyed working this week as usual triaging, giving injections, dressing, dispensing drugs in the pharmacy, integrated management of childhood illness (IMCI), SOPD and family planning. Otherwise, this week was challenging and good.

Reflections from Archana
This week has been very challenging as I had to prepare a projected cash flow report for the month of June. As well as updating the petty cash flow, preparing payment vouchers, writing cheques, arranging for banking and posting entries into the MYOB. Thus, posting of entries becomes very frantic due to multiple projects running and we have to keep up to date with it. I have also learnt some bits of how to project budgets for projects.
YWCA Lautoka – Teachers workshop on Reproductive Health
The Principal Education officer western Master Albert Wise, giving his opening remarks at the teachers workshop in Lautoka at the YWCA hall.


There were 50 participants at the Lautoka teachers workshop.


The Health Promotion Officer, Moseisei Baseisei conducting a session with teachers during the workshop.

Some of the discussions gave us good feedback from the teachers attending the workshops.

The teachers were eager to learn and share their experiences.


Anne Felsen a peace corp volunteer on the RH Team talking to teachers about the development of young children at schools and sharing some of her experiences with her own children.



Staff putting up the banners in the community




Outreach Education Sessions for the rural women and girls in Tavakubu, Lautoka



Jokapeci , RH Educator, educating the women on the various types of family planning available

Nadi College Hall, Nadi – Teachers workshop on Reproductive Health


The number of teachers attending the workshop in Nadi were 44



Professor Swaran presenting to the teachers on Reproductive Health.


Professor Rajat conducting a session during the teachers workshop in Nadi.

Teachers presenting after their group sessions.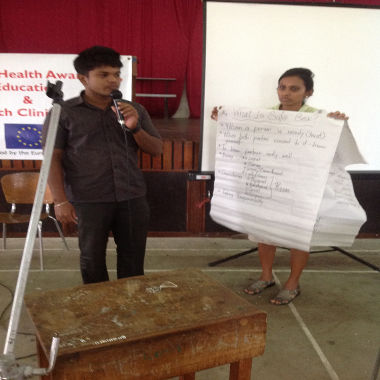 Teachers actively participating in the presentation after group discussions.