Community Health Worker Training in Suva.
2014.04.01
MINISTER FOR HEALTH DR NEIL SHARMA OPENS COMMUNITY HEALTH WORKER WORKSHOP HELD IN LAMI, SUVA ON 31-03-14.
The Ministry of Health (MOH) invited Viseisei Sai Health Centre (VSHC) to run a training workshop for community health workers recruited from the greater Suva area. This is the sixth such workshop VSHC has run.
The Minister opened the workshop held in the Lami Town Council chambers. At the opening he said:
"Professor Gyaneshwar and representatives of VSHC training team, participants and ladies and gentleman. Good morning and a warm welcome to Lami. I am delighted to address you.
An individual's life potential is determined by multiple components.
Genes, when and where you are conceived, you lie in your mother's womb, its duration and how and when you were born, nourished, nurtured, schooled, educated and how you have lived your life.
There are things which we can change and others we cannot. The social determinants of life, health and wellness are all borne out of these parameters.
MOH aims to promote wellness, strengthen its primary, secondary and tertiary health care. As part of its wellness program community health work is very important. It addresses those parameters which determines society's well being.
As grass root people, your health committee made up of the community elders and you as community health workers will address matters of health, hygiene and water safety.
You will be trained to provide advice on other matters such as nutrition, and early pick up of childhood conditions which will help children grow better into responsible adults. Hopefully with further training you could be part of teams in sexual reproductive health, cancer awareness and aged care.
The training team from Viseisei Sai Health Centre has trained several community workers like you from the Central and Western Division.
The MOH is bringing together you from peri-urban Suva, the Suva- Nausori corridor as you house about a third of Fiji's population.
These trainers will also shortly train similar workers from the Nadi-Lautoka corridor.
Your linkages with the district and zone nurses will support you in your work and they will evaluate your performance.
In conclusion : Partnership in delivering healthcare remains paramount. Addressing the social determinants of health, wealth and prosperity results in living life in productive ways.
I wish to thank the VSHC training team for arranging this workshop in Lami. I thank you for your participation and which you well in your training and your work. "
The training workshop will run till Friday. The VSHC training team was led by the VSHC Senior Health Promotion Officer, Mr Mosese Baseisei and included Professor Gyaneshwar, Sister Akisi, Nurse Namrata Patel, Mr Benjamin Narayan and Peace Corps volunteers Dr Joe Felsen and Nurse Ann Felsen. The sexual and reproductive health component of the workshop will be run by the RH team led by Assoc Prof Swaran Naidu. Her training team will include Nurse Amelia Ake, Health Educators Koroi and Jokaveti.
The VSHC training program for Community Health Workers is designed to provide information and develop skills and attitudes to promote wellness in the community. Over the 5 days the trainees are encouraged to discuss key wellness issues for the community. These include topics such as empowering the community to reduce life style risk factors such as smoking, poor nutrition, abuse of alcohol and kava and lack of exercise which affect health and cause diseases such as diabetes, cardio vascular diseases, respiratory diseases and cancers. The sexual and reproductive health issues discussed will include family planning, teen pregnancies, early ante natal booking, post partum care of the mother and the newborn baby, safe sex and cancer detection. Other topics include the maintenance of a clean sanitary, hygienic environment and looking after the disabled and the senior citizens.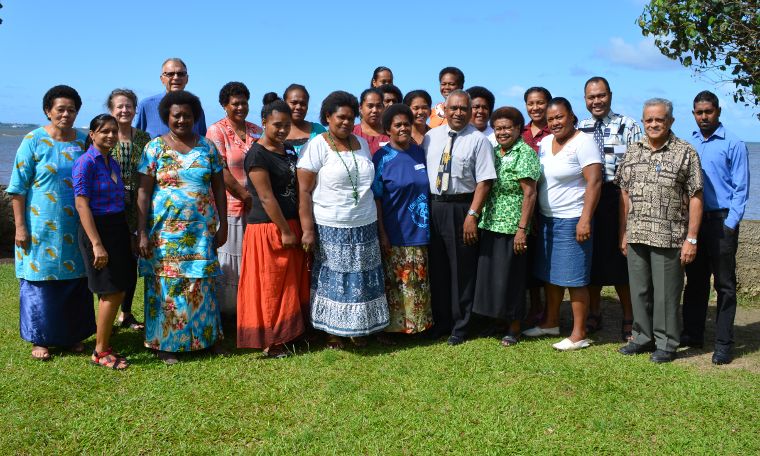 Participants in Community Health Workers workshop held in Lami, Suva.