VSHC goes solar
2013.02.25
VSHC was donated a Grid Connect Solar System by the Rotary Club of Kerikeri
Inc, New Zealand through Mr Mahmood Khan. Through its work, the health centre managed to attract the attention of the Kerikeri Rotarians, who helped the centre install a $38,000 solar panel system that will reduce its use of electricity from fuel-powered generators. The installation of the Solar System was provided free of charge by the Managing Director, Mr Bruce Clay of Clay Engineering Limited, Suva, Fiji. Clay Engineering has also offered to service the unit without any charges when the need arises. The switching on ceremony was done on 25th February 2013 by Mahmood Khan, Bruce Clay and Terry Metcalfe who represented the Lautoka Rotary Club. Other invited guests included Rotary Club members of Lautoka and Nadi together with staff of Clay Engineering.
In the first six months of operation the electricity bill of the health centre has been reduced by half. The solar panels have helped the centre in being more energy efficient and more environmentally responsible.
Read more:
Fiji Times: http://www.fijitimes.com/story.aspx?id=226297
Fiji Sun: http://www.fijisun.com.fj/2013/02/27/sai-health-goes-solar/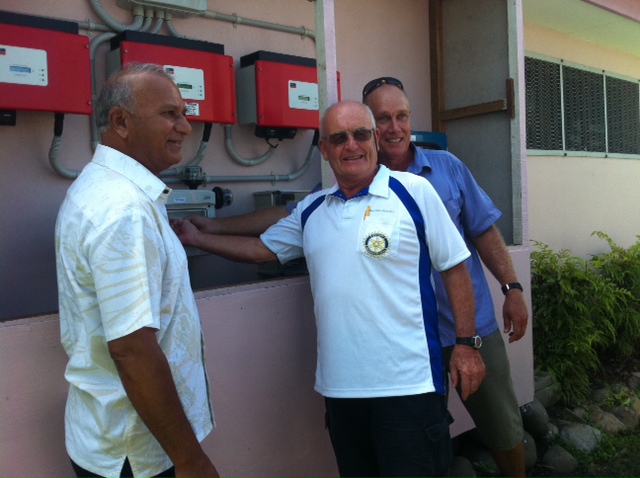 Mahmood Khan, Bruce Clay and Terry Metcalf switching on the new solar panel system on 25th February, 2013.