Visit from Ratu Joni Madraiwiwi
2014.11.21
Former Vice President of Fiji visits VSHC. - Ratu Joni Madraiwiwi
The centre was privileged to host the RokoTui Bau, former Vice President of Fiji, Lord Tagatatoga of the Kingdom of Tonga and currently the Chief Justice of Nauru. Ratu Joni Madraiwiwi is the son of Ratu Dr. Joni Antonio Rabici Doviverata who is the younger brother of Ratu Sir Lala Sukuna. His mother is Adi Losalini Raravuya Uluiviti from Natauloa in Nairai. His visit is historic to the centre since the last family member of his to set foot in the compound was the late Ratu Sir Lala himself during the Native Lands Commission nation visitation and records.
His visit is very important since VSHC has been busy in engaging with the community to tackle important health issues. The Medical Director Assoc Prof Swaran Naidu and the NCD team made presentations describing the activities of the Health Centre not only in collaborating with the Ministry of Health to provide outpatient services and with FNU to provide training for medical students but with other development partners in empowering the community to avoid life style health risk factors. Ratu Joni, in his one hour visit asked key important questions regarding service delivery as well as the importance of having Health Educators.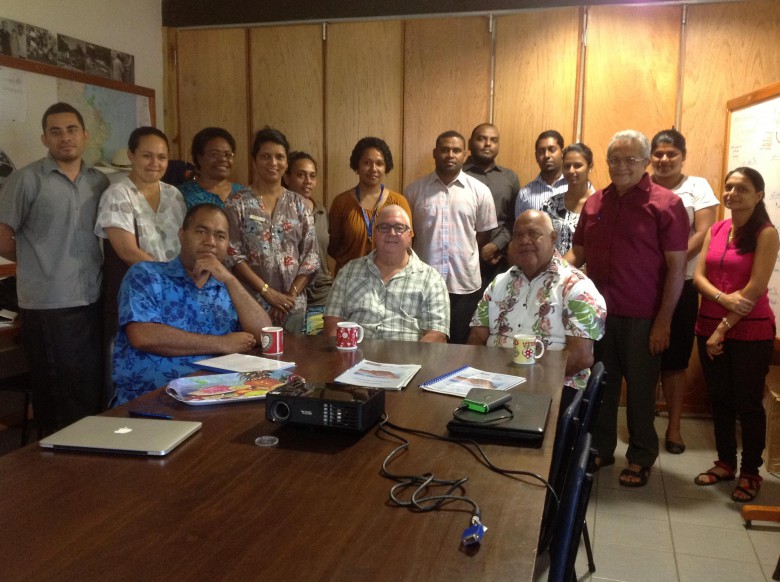 Team VSHC with Ratu Joni Madraiwiwi.