Report on the visit from the Ministry of Youth
2013.07.11
The NCD Team is encouraging backyard or front yard gardening as an intervention to decrease non-communicable diseases in the Vuda community. This will help promote physical activity, healthy eating and food security.
The Ministry of Youth representative conducted a seedling orientation program at the VSHC Gardens. This was received with a lot of enthusiasm from the men of Viseisei village with about 20 men being present for the session. The NCD team has conducted several meetings with the Turaga ni Koro as well as the villagers in order to encourage home gardening.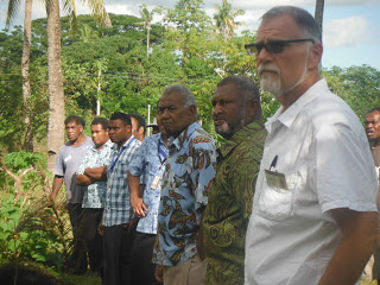 On our previous visit to the Dreketi farms, the farmers had demonstrated to us the correct spacing whilst planting seeds. This session by the Ministry of Youth representative further enlightened us on gardening techniques. Some of the lessons learnt from the session were:
Preparing plots for planting
Spacing the plants
Transferring seedlings
Types of non chemical pesticides to use
Manure
Composting
The men from the village have already started clearing the land opposite the Health Centre and once the seeds are transformed into seedlings, these will be distributed to the villagers to continue planting.
The Divisional Youth Officer has given his commitment to Viseisei Sai Health Centre that he will be assisting us in promoting this program in the local community.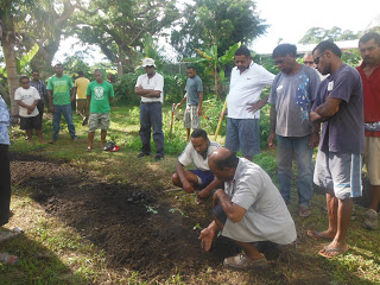 Demonstrating planting techniques.