Reflections of the week
2013.06.07
Reflections from Dr Joe of the NCD Team – 7/6/2013
On Wednesday the team had an education session at Sabeto that was attended by 40 residents of the area. All 4 of us lectured and we offered Glucometer screenings, blood pressure recordings and personal consultations. There was excellent participation by this large crowd. It amazes me what a large turnout can fit on a front porch! We thank our host Mr. Singh! Thursday was high risk day and we talked to 19 patients; four of them men. 15 of them were new attendees! They will all remember EAT HEALTHY and EXERCISE. Today Friday is paperwork for Ben and Sheetal, Namrata is out with the NP Serena and Soko doing NCD checkups for shut-ins, and when I'm finished with this I will work on my talk next week at SVC (Shri Vivekananda College) as part of their NCD WEEK titled "You are what You Eat". Tomorrow Saturday, the team will join the RH team at the International School to do screening and education. We will have a volleyball match after work today. Yes, being so busy can lead to us neglecting our own wellness!!!
| | |
| --- | --- |
| Participants at the NCD session. | Dr Joe doing a one on one session. |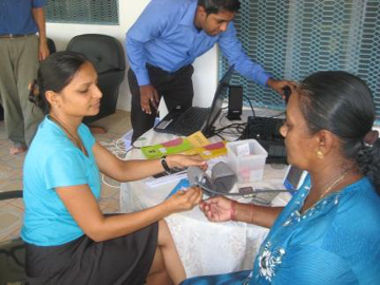 Ben and Namrata doing screening.