A Personal Reflection from American Volunteer, Eileen Lindemann
2017.07.05
Eileen is a registered dietitian with a Master of Science in applied nutrition from Sage Graduate School in Troy, New York where she teaches as an adjunct instructor in the Nutrition Science Department. Eileen has also worked as a nutrition consultant for the New York State Department of Health and as a nutrition educator for low income New Yorkers.
Here is her Personal Reflection -
I came to Viseisei Sai Health Centre because of my interest in global health and medical anthropology. I am especially interested in the worldwide obesity epidemic. I have learned so much from the clinic staff and from the CCOHSI team as well as from the Fijian people themselves. Obesity is a complex issue, and the United States and Fiji are struggling with how to combat this serious public health problem. The CCOHSI project's approach is to empower communities toward sustainable change. I have seen a similar approach in the United States, but I have learned much by observing how the CCOHSI team uses the existing Fijian social structures to build rapport and then empower communities. I'm thankful for the broad exposure I've had to important public health issues. Many communities struggle with waste management and basic hygiene. This is where good health begins, and as a dietitian I can appreciate the educational outreach the CCOHSI team has engaged in regarding these concerns.
The clinic itself is an invaluable resource for the community. I have enjoyed the connections I've made with the patients at the Maternal and Child Health clinics as well as the NCD clinics. I have also had the privilege of seeing the positive impact the clinic's outreach services has made in surrounding villages.
All of the nurses, doctors, and other public health professionals on the CCOHSI have been generous with their knowledge. I feel as though I have gained far more than I have given during my too brief 5 weeks here. I hope to return to the centre in the future to participate more fully in their health promotion and treatment efforts. I know I will continue to think about Fiji and its people until I return again.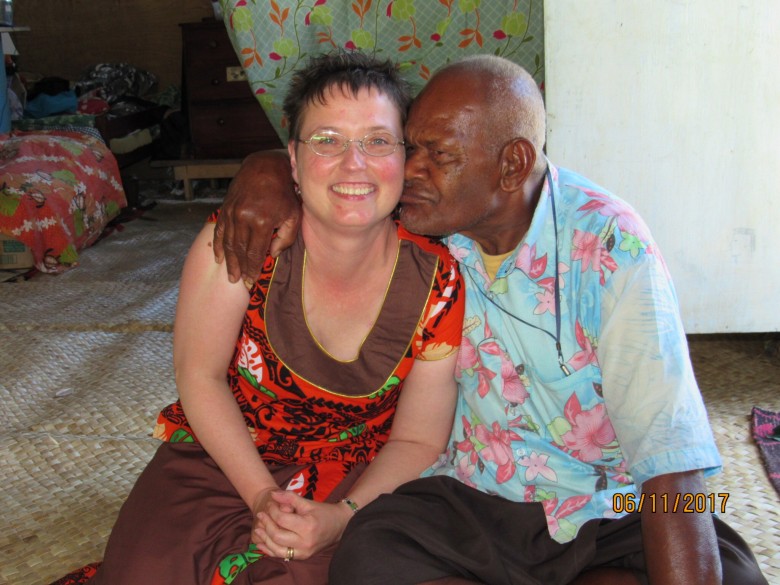 Eileen and Epeli, brother of the Buyabuya Village Chief.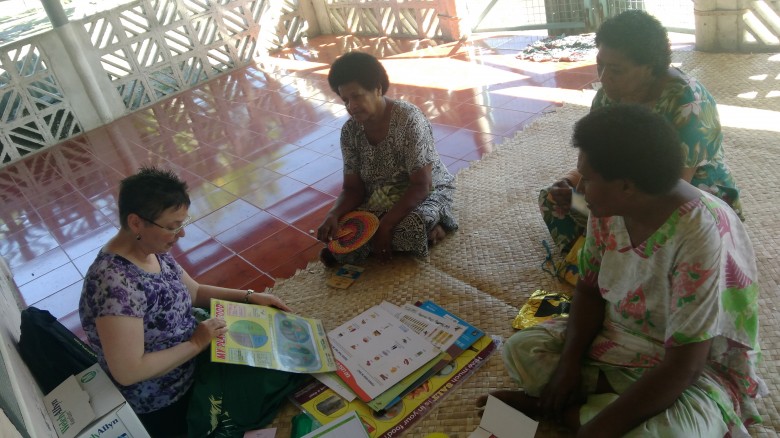 Eileen presenting to local women on healthy eating.